Our Rockport MA Vacation Rental Guest House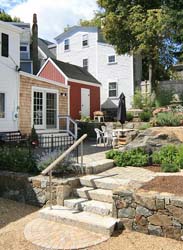 We offer a beautifully renovated guest house, just next door to the Eagle House Motel. We have recently renovated the property inside and out and our guests love it. The house is rented on a weekly basis in season. Off season it is available both weekly and nightly. The downstairs guest room and upstairs suite can be rented separately, on a nightly basis in the off season.
Click images for larger views.
Rockport MA Vacation Rental
Welcome to the EAGLE HOUSE GUESTHOUSE in Rockport MA, the perfect Rockport downtown and beach location. The EAGLE HOUSE GUESTHOUSE features 3 bedrooms, 2 baths, kitchen and living room, large outside patio and driveway for parking 2 cars.
Amenities include: A great location, easy walk to the beach, village, shops, galleries and restaurants, with very helpful innkeepers, updated rooms. An overall superior vacation value. EAGLE HOUSE MOTEL IS A SMOKE FREE PROPERTY. NO SMOKING ALLOWED ANYWHERE ON PROPERTY.
Welcome from your innkeeper, Gary DellaRocco. We invite you to stay at the Eagle House and discover the charm of Rockport just outside your door. We are uniquely located on a quiet back street, where you can walk to beautiful, sandy Front Beach, specialty shops, restaurants and art galleries. Many guests also enjoy venturing beyond Rockport.
A short distance from the motel there is a direct train to Salem and Boston, allowing you to visit two of American's most visited destinations, while staying right here in quiet Rockport, near the village and beach.
Our guests love the Eagle House Motel and our adjoining guesthouse. Frequent comments from guests include: Our great location • Nice, clean updated rooms • Beautiful new decks • Very helpful innkeepers.