Beautiful Front Beach Is Only 500 Feet Away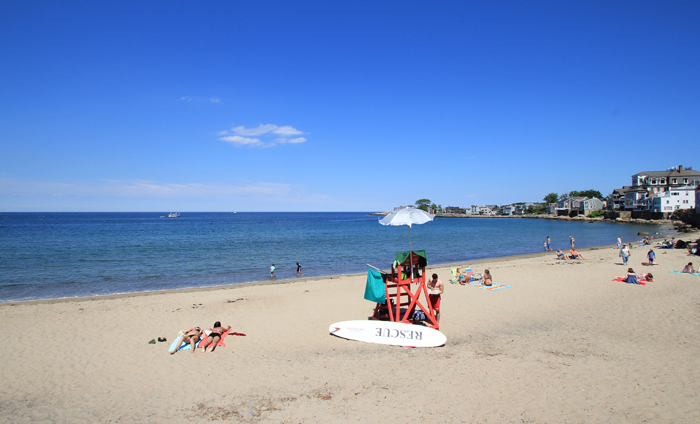 One of the notable things about Front Beach is that it is in the heart of the Rockport village, not way out of town. There is very limited metered street parking, but no parking lot. Front Beach is a "walk to", not a "drive to" beach. You can have friends or relatives drive you and drop you off of course, but the chances of parking there during a hot summer day are slim.
Front Beach is a beautiful sandy beach on Sandy Bay in Rockport. From warm summer days to bright winter mornings, this beach is enjoyed by visitors and locals year round. The beach is also within an easy walk from the downtown Rockport village, and from many of the inns and hotels nearby. Lifeguards are on duty at Front Beach in the summer months.. Another nice thing is that it is near a number of restaurants, eateries and shops, so you can combine some beach time with browsing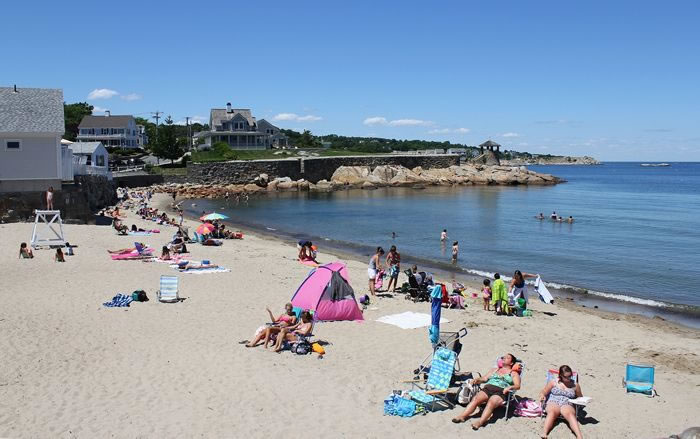 and dining. The beach faces east, toward the Atlantic Ocean and Bearskin Neck. The water is flat or has a light chop most of the time. During winter and off season storms, the beach often directly exposed to the storm. The beach surface is mostly sandy, and a little rocky, with a few boulders. The drop off is gradual and there are no strong currents. It is popular and family friendly. There are lifeguards during regular hours in season and public bathrooms. There is no fee to walk on.

Front Beach Parking
There is metered parking along the beach front and private parking lot nearby across Beach Street. In addition, parking is available at no charge in the Blue Gate Parking Lot on Upper Main Street (Rt. 127) with shuttles running from the parking lot to the beach all day long. However, by staying at the Eagle House you won't have to worry about any of this – it is an easy walk from your door.
Gloucester MA beaches are also a major attraction, especially in the summer, of course. Gloucester Massachusetts beaches are worth a trip from anywhere, especially Wingaersheek and Good Harbor Beach, the two most popular. The problem with both beaches is parking of cars on hot summer days. The beaches themselves are not overcrowded, but the parking lots fill up fast on hot days. Each beach has a public (fee paid for non-residents) lot, but get there early on hot summer weekends or forget it.
Rockport Gloucester Massachusetts Beaches